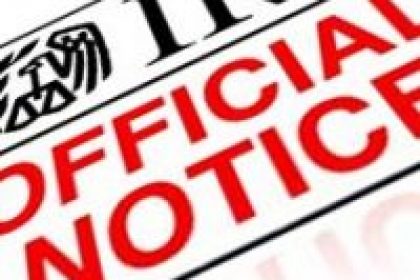 Conservative Easement Transactions
When presented an investment opportunity or tax transaction; it is always important to make sure it is not running afoul of the IRS' intent.  As momma always said "if it sounds too good to be true, it probably is!" Such is the case of those large tax deductions for charitable contributions of Syndicated Conservative Tax Easements.
The Internal Revenue Service (IRS) and Department of Treasury are aware that promoters are offering investors the possibility of a charitable contribution deduction that equals or exceeds two and one-half times the amount of the investor's investment.  To avoid penalties and fines, taxpayers that have already filed tax returns with these transactions should take appropriate corrective action to ensure that the proper disclosure is made.
To see the official notice from the IRS, please click here.
United States. Internal Revenue Service. Income Tax & Accounting. Listing Notice-Syndicated Conservation Easement Transactions. By Angella L. Warren and Maxine M. Woo-Garcia. N.p.: n.p., n.d. Web. 21 Jan. 2017. <https://www.irs.gov/pub/irs-drop/n-17-10.pdf>.
www.pinpayhr.com/wp-content/uploads/2016/03/IRS-Graphic.jpg